As a pioneering force in web development, adult SEO, and digital marketing, we at Adult Creative take great pride in delivering exceptional results that redefine the landscape of the escort industry. 
Since our inception, we have transformed the fortunes of many agencies in this highly competitive industry, including the resounding triumphs of two of our esteemed clients, Dior London Escorts and Rachael's London Escorts. With our innovative strategies and unwavering dedication, we helped both clients reach Page 1 for London Escorts on Google, and we'd like to do the same for your business. 
Read on for a closer look at the strategies and results achieved over the course of our campaign:
From Vision to Victory: Our Client Success Stories
Here at Adult Creative, our aim is simple: to craft bespoke solutions that drive business growth, tailored to each client's unique needs. 
Rachael's London Escorts
Rachael's London Escorts embarked on this exciting journey with us a couple of years ago. Through our strategic digital marketing interventions – backed by an arsenal of technical SEO expertise, adept content writers, and link technicians – they have ascended to new heights in the extremely competitive realm of escort agencies. 
The culmination of our efforts is a stylish and highly functional website that now ranks high in the digital world of London escorts, having found its place on the upper ranks of Page 1 on Google. This remarkable feat underscores the potency of our tailored solutions and stands as a compelling testament to the effectiveness of our digital marketing strategies.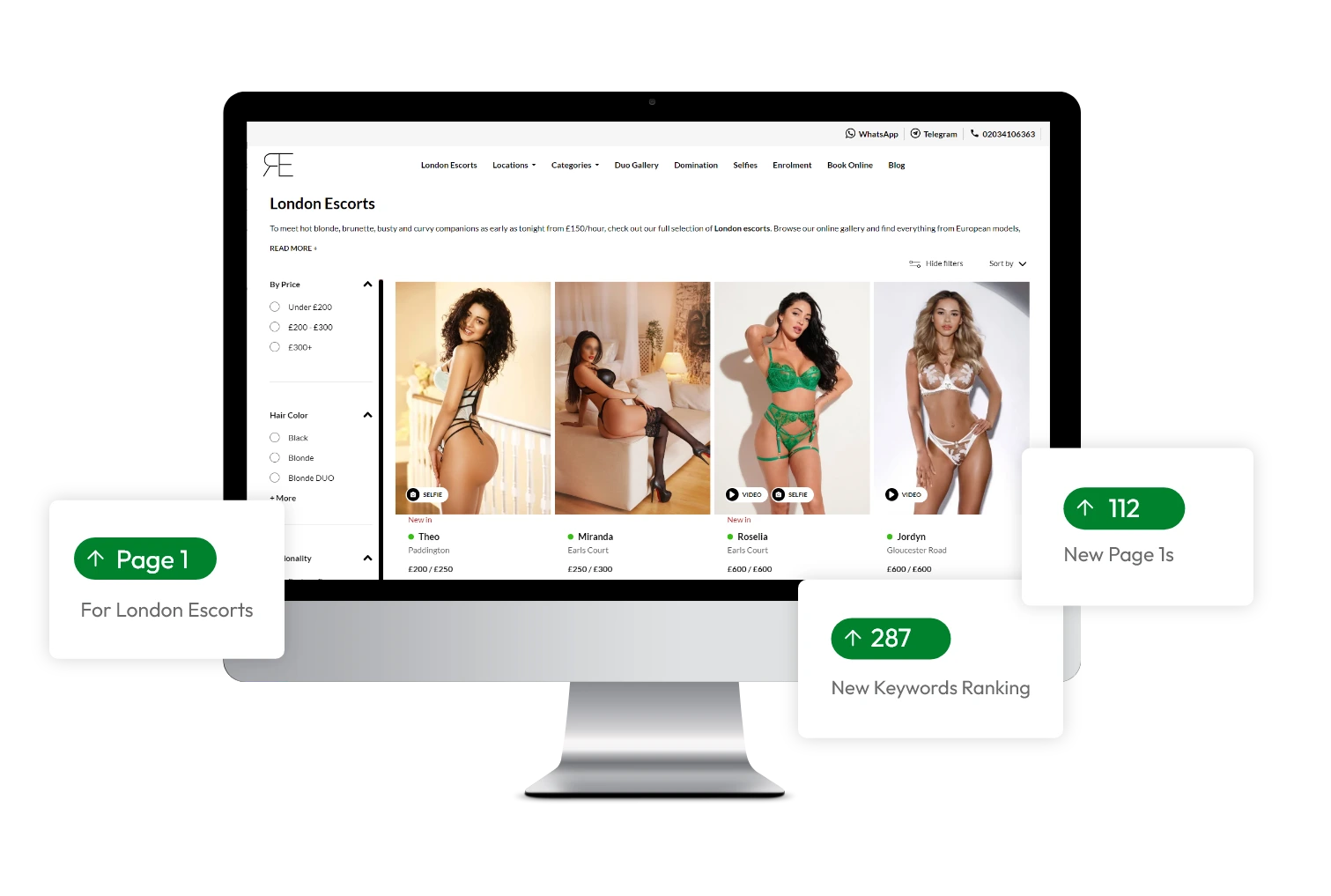 Dior London Escorts
Our collaboration with Dior London Escorts spans a remarkable six-year period. Demonstrating a commitment to excellence, we have steadily maintained Dior's page 1 status on Google, conquering challenging keywords such as "London escort" and "London escort agency." The results speak for themselves: 
2023 Traffic Surge

: Witnessing an impressive increase in traffic compared to the past couple of years, Dior Escorts reaps the benefits of heightened visibility. 

Keyword Supremacy

: Garnering thousands of keyword searches each month, Dior Escorts' online presence resonates with its audience's search intent.

Dominating Page 1

: Asserting their dominance, Dior Escorts consistently occupies Page 1 for crucial terms like "London escorts," underscoring our capability to secure prime positions.

Over 100+ Page 1 Rankings

: With an impressive roster of over 100 Page 1 rankings, Dior Escorts stands tall in the highly competitive digital landscape.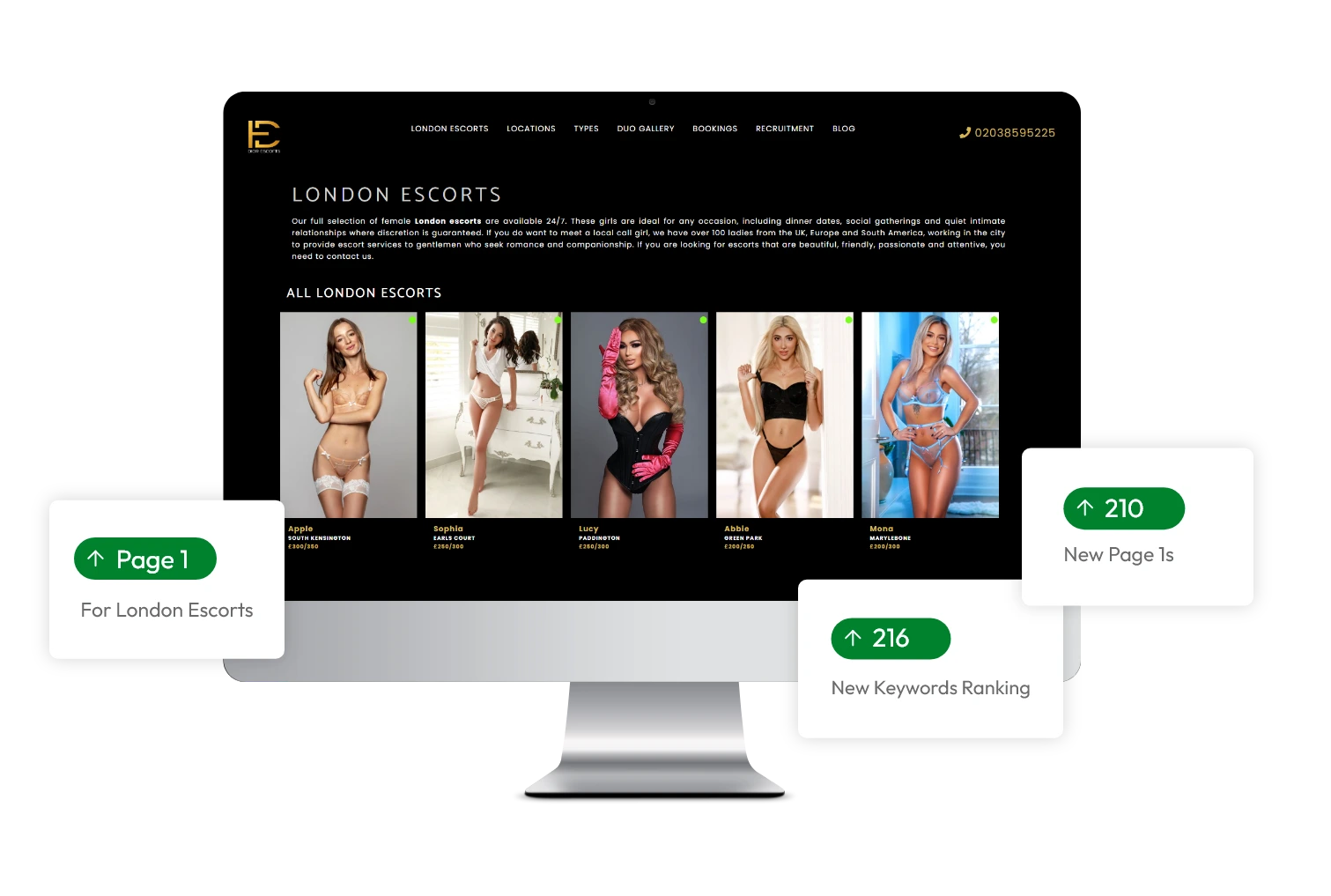 How Adult Creative Achieved These Results:
The cornerstone of our success stories lies in the strategic fusion of cutting-edge techniques tailored to the unique requirements of our clients:
Adult SEO: 
Recognising the escort industry's fiercely competitive nature, we meticulously devised and executed Adult SEO strategies that drive high-quality organic traffic. 
To learn more about this competitive field, take a look at our Beginner's Guide to SEO.
Content Creation:
As a crucial component of SEO, we helped to create high-quality content designed to improve the websites' search engine visibility, attract more organic traffic, and drive engagement. 
Adult Web Development:
Our Adult Web Development services played a pivotal role in boosting the digital success of Rachael's London Escorts. Through our versatile and innovative approaches to website development and design, we crafted a fully functional website that not only meets the highest industry standards but also resonates with the brand's identity.
Explore our curated selection of stunning templates today and we'll have your new design launched within just 7 days.
Account Management: 
Our clients benefitted from the attentive partnership of a dedicated account manager, whose primary role revolved around overseeing every facet of their SEO campaign. This personalized approach ensured a smooth and efficient journey from strategy development to execution, maximising the potential for success at every turn. 
Testimonials
Both Dior Escorts and Rachael's London Escorts have expressed their utmost satisfaction with our collaborative efforts, solidifying a strong partnership that stands as a testament to our commitment to excellence. Let's hear directly from them about the transformative collaboration:
Dior Escorts
: 
Excellent Company 5* Service

"We have worked with Adult Creative for nearly a decade.

We wouldn't go anywhere else – the service is professional & they have solved any problems we have had immediately.

We highly recommend this company which is very honest with their time scales on when a job will be complete, unlike other companies we had tried previously who never managed the desired outcome.

The staff all seem very friendly & helpful, always contacting us to ensure we are satisfied with everything they are doing.

Thank you"
Rachael's London Escorts
: 
Rated 5 out of 5 stars

Fresh and full of positive ideas!

"The team totally envisaged what we were hoping to achieve. Adult Creative is amazing at making design ideas into reality. The guys are positive and great to get along with. Always upbeat and excited about your project."
This partnership has been a source of inspiration for our in-house team at Adult Creative. Reflecting on this remarkable journey, they have shared their thoughts: 
Lewis | SEO Manager
Dior Escorts has been one of the best-performing websites for all London escort keywords over the last 6 years.

Dealing with constant negative SEO attacks and the everchanging Google algorithms is a testament to how our SEO strategy has evolved to stay up to date with the latest technology to ensure Dior Escorts continues to grow and not become stale, focusing on its previous success.
Jack | SEO Account Manager
I'm thrilled for Tom; it's great to see his trust in us pay off! When I first started SEO on Rachaels a couple of years ago, there was significant room for improvement across every aspect of the website. Through diligent and consistent improvements, it quickly became a fully established business, and seeing its steady growth has been very rewarding.
Elevate Your Business Today with Adult Creative
As we celebrate the triumphant journeys of Dior Escorts and Rachael's London Escorts, we extend an invitation to similar businesses seeking transformative success. 
Here at Adult Creative, our holistic approach to web development, adult SEO, and digital marketing is driven by a commitment to deliver unmatched results. So, if you're ready to empower your brand's digital transformation, contact Adult Creative today and embark on your journey to new heights of success.