What is SEO?
Search Engine Optimisation (SEO) is the process of optimising and improving your website  in order to achieve increased visibility within search engine results pages (SERPs). Improving the visibility of your web pages in search engines will lead to increased organic traffic to your pages; and in turn, a higher volume of leads/sales for your business.
The core benefit to carrying out an SEO campaign rather than other paid marketing strategies is that SEO can net you sustainable, long-term results and with the correct planning, this traffic is likely to convert. Compare this with PPC, whereby a business may choose to pay for the immediate benefit of high visibility on search engines, but once the business stops paying, the results will be gone.
If you'd like to talk to our experts who can advise you on a strategy that will work for you, get in touch for a free consultation.
Cost Structure
Many different factors will affect the price of an SEO strategy. It will mainly come down to; the service provider chosen and your specific objectives. The sky's the limit when you ask yourself 'how much should I spend on SEO'. Rather than asking yourself that, think of it in the way of, how fast would I like to beat the competition? This will answer how much to budget for SEO. If the budget is unlimited, then spending it on an in-depth strategy will in-turn rank the site higher on search engines, quicker.
Monthly
Companies offering SEO services will tend to offer a monthly price/package. It is a process that is being continually tweaked and developed to ensure it is working effectively. Algorithms are changing constantly, ergo, if your strategy is not being monitored closely and modified on a regular basis, you run the risk of competitors outranking you on SERPs. Therefore, just paying for the odd hour every few weeks will not be as beneficial. Choosing the right company who will take the time to get to know your business and what works for it online, can massively affect the success of your strategy.
The average monthly budget in the UK for SEO services on smaller companies can range from £500 to £1500. Websites that offer hourly services without monthly contracts such as; people per hour offer cheaper SEO starting from just £10 per hour, but with that will come the obvious risks of the employee not being technically trained and not building an effective strategy tailored to your company. Major businesses with a more complex strategy will spend anything from £5,000 upwards per month on SEO. However this will vary greatly between companies, especially when taking into account how much they will potentially spend on PPC, social media and other marketing campaigns. When SEO is your main drive for traffic, it is recommended to budget higher for this service.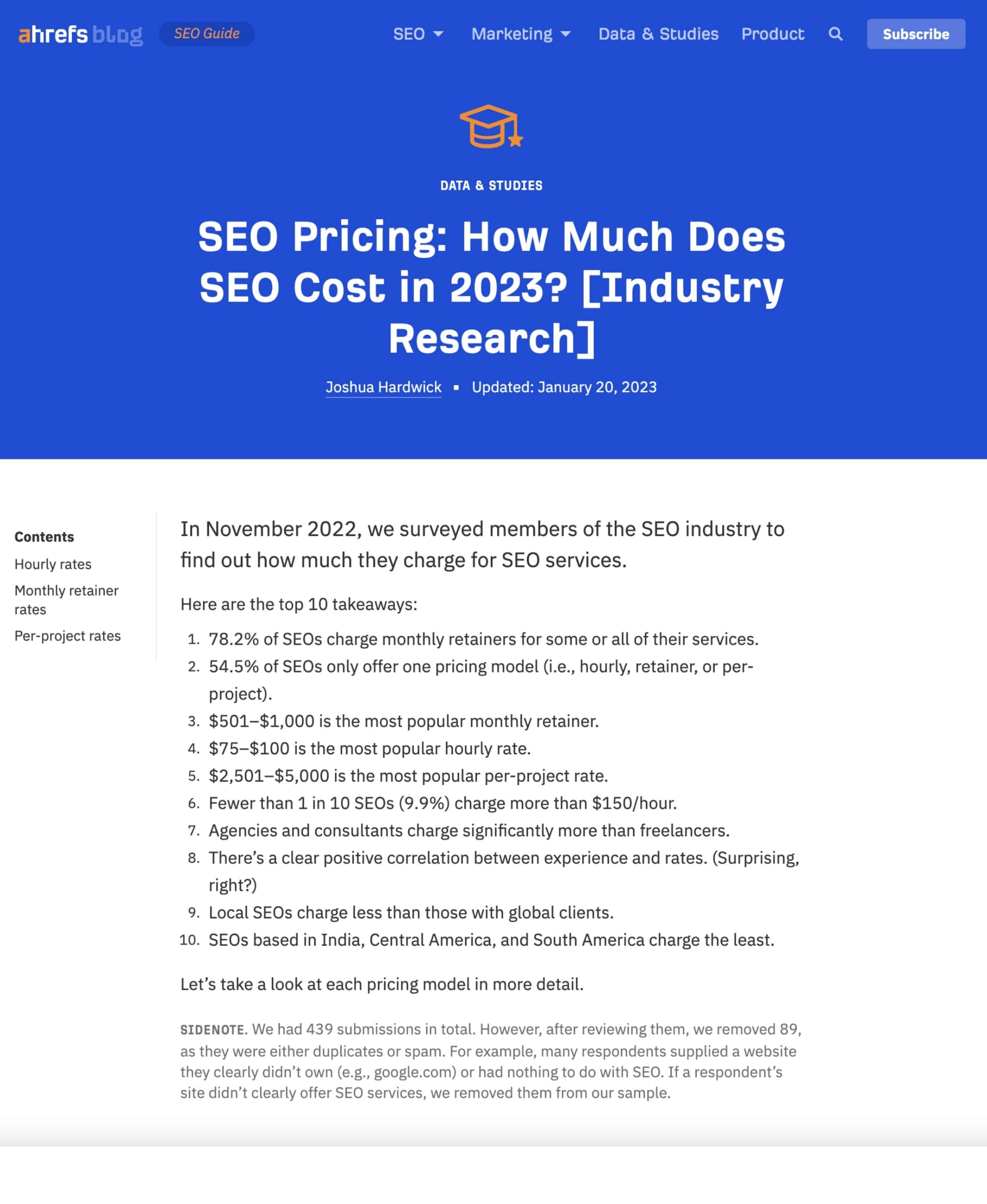 What will affect the price of SEO?
With so many contributing factors, the cost will vary quite extremely from business to business depending on your end goals. Relying on the skill from your chosen company will affect the overall cost, whether that is hourly or monthly. Take into account if the company has experience working specifically within your niche with developing strategies that have proven to be successful.
Other factors that will affect the cost:
Smaller websites have a generally simplified structure that can be optimised easier than a larger site. Alongside this, with less services/products on offer, the number of keywords to rank for will be lesser and will not take as long to optimise. If the website is small with a limited number of landing pages, it will require lesser SEO efforts than one with many pages.
Trying to rank for keywords that are highly sought after will require a more complex strategy. Ensuring your content is surpassing that of your competitors will take time and research from the SEO team, therefore will increase in price.
Difficulty in acquiring backlinks
Link building is a manual, time consuming process. If you want the links acquired to be of relevance to your industry/company, your SEO team will have to put the hours behind it performing outreach to other websites that will benefit yours. A strong SEO team will have industry contacts, however this does not mean that all of these will be beneficial to your company, for this to warrant success, the team will outsource unique links to websites that fit your brand.
The websites history/condition
The condition of the website will be analysed in the initial audit. If the site does not contain a good amount of content or if the content has been duplicated or copied, the SEO process will involve a greater amount of time spent on copywriting, changes in development and different optimisation activities.
Auditing a website is the first step of a quality SEO process, this helps to determine the position of the website and which elements need improvement. Achieving a higher ranking on search engines is much more difficult than maintaining one. If you are already holding a strong ranking it will be a lot less costly than getting you from page 10 to page 1.
The quality of competing websites
To increase reach on SERPs you will need to outshine your competitors. After analysing their website and content, the areas that can be improved will be identified and projected into the SEO strategy. If the competitors' sites contain high quality content, higher effort will be required to surpass them.
Some niches have limitations or certain technicalities that require more in depth research. The adult industry comes with a variety of complications when it comes to adult marketing. With the process of ensuring the efforts are coming back successful, this takes the team more time and in turn will make it more costly.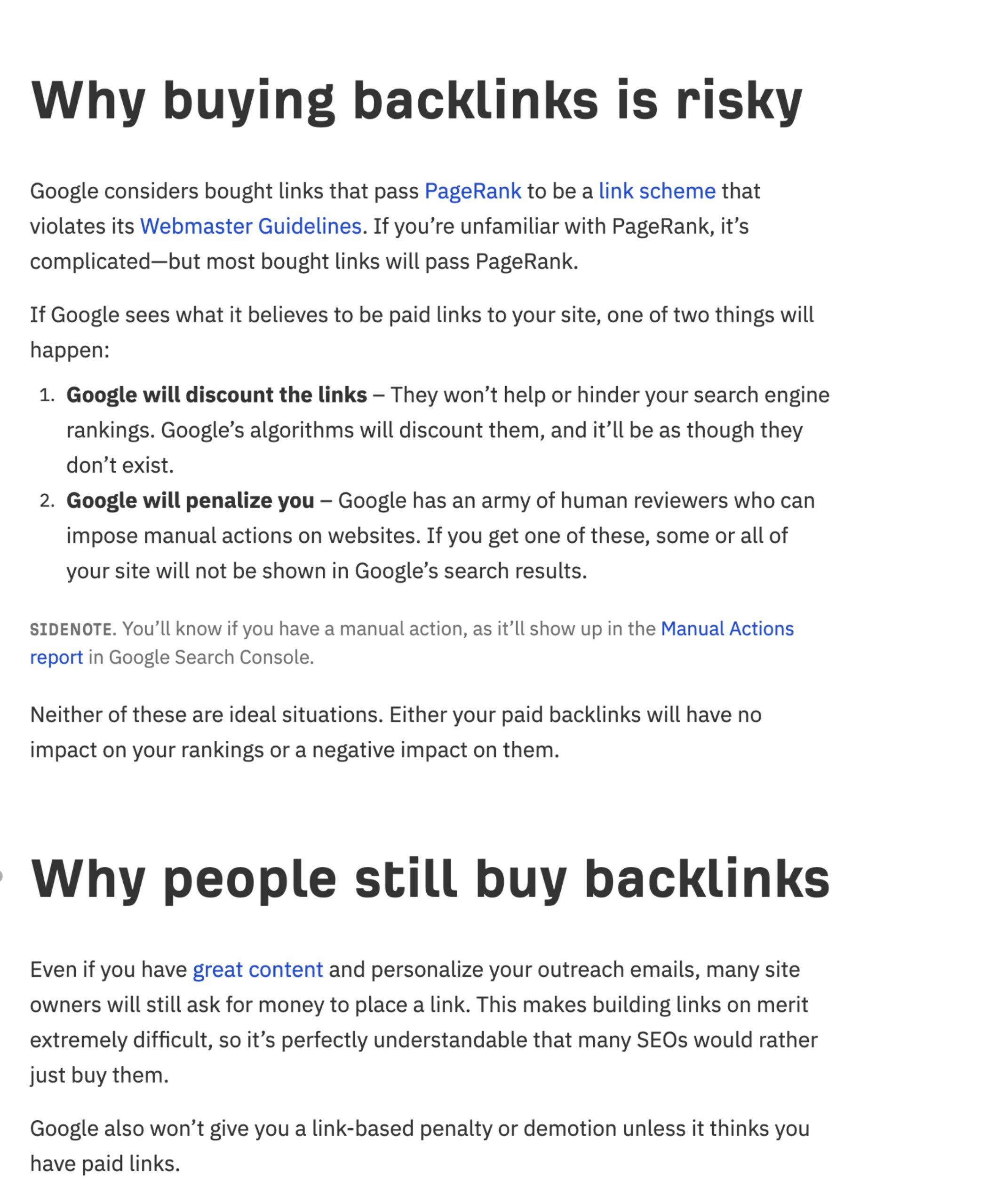 The best way to acquire backlinks is to create rich, engaging content that other users want to share. Buying backlinks is against Google's Webmaster Guidelines.
What are the different types of SEO?
On-page SEO
Also known as on-site SEO. This is the practice of optimising pages of a website through content, to improve the ranking on search engines. It is used to assist Google and users better digest and understand the content. 
Examples
Why is it important?
On-page SEO is a key factor when building your strategy. On-Page SEO assists Google and other search engines examine a web page, specifically the content, to identify a searcher's query to ensure it is relevant. Search engines are constantly evolving and updating their algorithm so it can comprehend the searchers intent.
Off-page SEO
Also known as off-site SEO, Off-Page SEO is the process of building an external online presence in order to impact your rankings within a search engine. There are many different factors to Off page SEO such as link building and guest posting, which can be used to drive traffic to your website, help build authority and improve your citation and trust flow.
Examples
Link building

Brand building

Social media

Content marketing

Reviews
Why is it important?
The techniques around off-page, or off-site SEO, are critical to improve the visibility and reliability of a website. According to Moz, Google's algorithm has shown that off-page strategies are likely to contribute to over 50% of ranking factors, which will highly contribute to where you rank on SERPs. 
Technical SEO
Technical SEO is the process of optimising a website through more technical practices that directly impact the crawling or indexing of a website by search engine spiders. This will naturally aid in a website's organic rankings.
Examples
Why is it important?
Technical SEO is a necessary step in ensuring that a website can reach its full potential. Doing regular audits on a site confirms that any technical issues are found and resolved, therefore ensuring that the site is easy to use and navigate. This prevents search engines being unable to read or crawl the website and means you are not wasting your crawl budget. Core web vitals have also become a more important aspect of SEO than ever before, so ensuring your website is fast and user friendly is key to success. Check if your website is mobile responsive.
ROI
The ultimate goal of any marketing strategy is not to solely rank highly on SERPs or to drive more traffic to a website, but to deliver revenue. Understanding the ROI of your SEO endeavour will show you if you are earning back what you are putting in. 
The general rule of thumb when it comes to spending money on marketing is follow the ratio 5:1. This means for every £1 spent, you should be seeing £5 coming back. This is just a guideline and is not specific to just SEO.
A good way to determine whether your ROI for SEO is a success, will be to compare it with your other marketing efforts. Such as; email marketing, paid search, social media etc, this is a good method to use when trying to gauge the effectiveness of SEO.
Conclusion
With Google processing over 8.5 billion searches per day, it is important to put yourself in front of your potential customers when they are searching for products or services similar to yours. Being on page 1 of SERPs will massively assist in generating traffic and revenue. 
It is essential to do your research and invest in quality SEO services, the more you put in with the right company, the more you will get out.
If you have any remaining questions regarding SEO and would like to develop a strategy with our industry experts, we are here to help. Book in for a free consultation today.