On October 5th 2023 Google announced their October 2023 core update alongside their recent October 2023 spam update and to their helpful content system. Several times a year Google makes significant broad changes to their search algorithms and systems, which they refer to as core updates.
These updates are designed to improve search engine results for users, providing helpful and reliable results. Each update has the possibility to affect your website traffic, as your ranking in the search engine may change.
Contents
What Is This Update?
This is the third core update of 2023 and will take up to two weeks to fully roll out.
Although detailed information on the changes is sparse, we can draw from past updates to expect:
A rise in fluctuations on the Search Engine Results Pages (SERP).
Enhancements in the quality of search results.
Websites featuring high-quality, useful content generally see a boost.
SERP Volatility
Tracking tools are currently showing a lot of volatility in search results. Semrush deemed it a 'Googlequake' on the 10th of October with SERP Volatility coming in at a 8.6/10. The rating has stabilised (for now) back to the normal range, but we can expect this to change while the update is rolling out.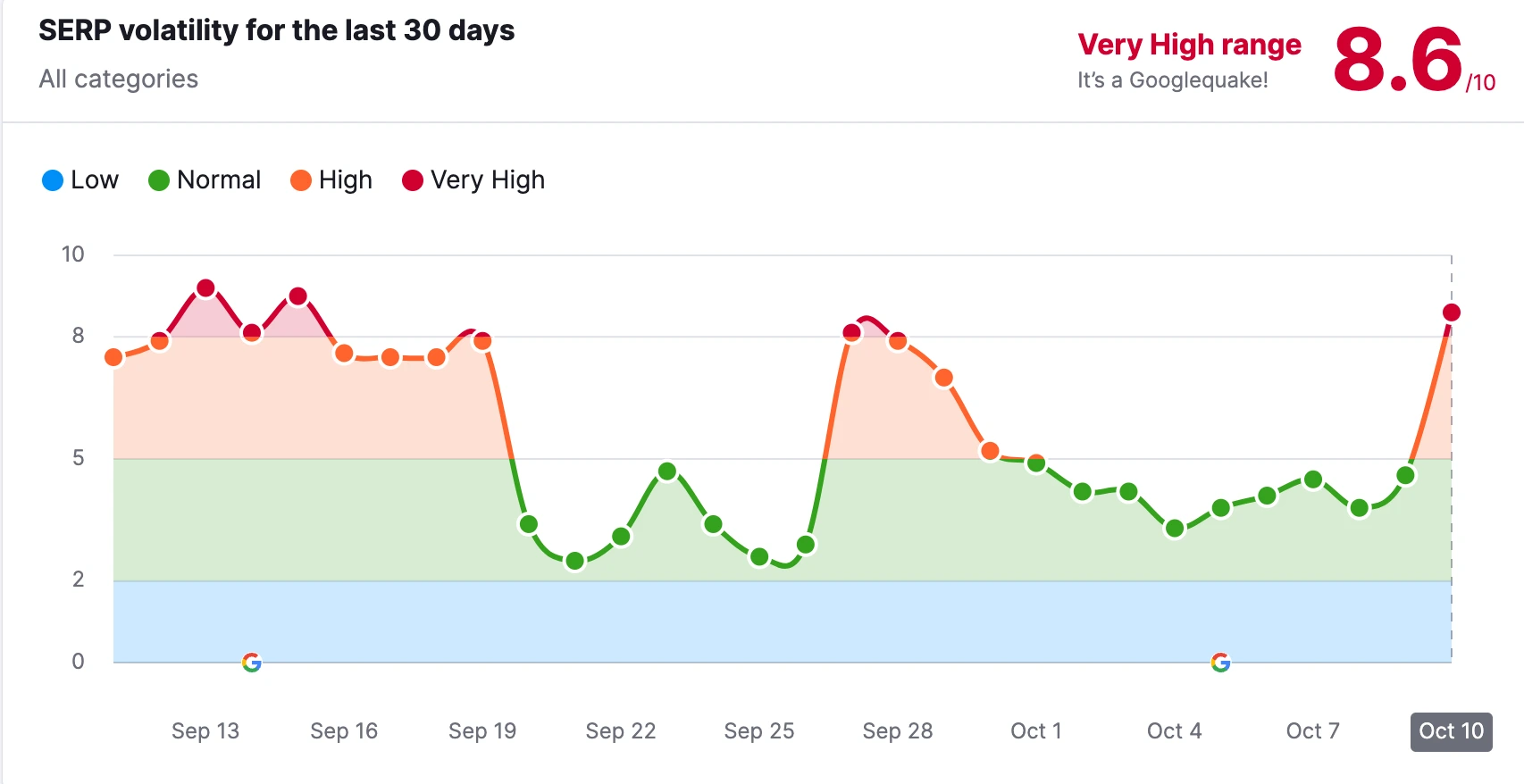 Google's 2023 Updates So Far
You can find a full list of the updates so far on the Google Search Status Dashboard.
What To Do If You Are Hit
Ranking updates can be challenging to navigate. Google provides documentation on the updates on their Search Developers Documentation page.
Our team of Adult SEO experts are always here to help. We regularly keep our eyes out for Google updates which could affect your website, so we can ensure your SEO is optimised regardless of changes to Search Engines. As a staggering 93% of global traffic comes from Google, it's important to stay on top of the changes.
Do you need help with your SEO? Contact us today to get started.