In the ever-evolving escort industry, maintaining a digital presence that stands out is no small feat. However, for Dior Escorts, an elite London escort agency, this journey has been an eight-year ride filled with countless triumphs.
At the helm of their digital success story is none other than Adult Creative, the pioneering force in web development, adult SEO, and adult marketing.
The Client
Back in 2015, Dior Escorts initially approached Adult Creative, recognising the importance of a strong digital presence in this competitive landscape.
Today, eight years later, Dior Escorts now stands as one of the top London escort agencies in the UK. Allow us to take you through Dior's remarkable journey, and learn how our efforts have kept them on Page 1 of Google, even in the face of adversities.
Results
Our collaboration with Dior London Escorts spans an impressive eight-year period. Demonstrating a commitment to excellence, we have steadily maintained Dior's page 1 status on Google, conquering challenging keywords such as "London escort" and "London escort agency." The results speak for themselves:
User Growth of 213%: Witnessing a substantial increase in traffic over the eight-year period, Dior Escorts is reaping the rewards of heightened visibility.
Keyword Supremacy: Garnering thousands of keyword searches each month, Dior Escorts' online presence resonates with its audience's search intent.
Dominating Page 1: For eight years, Dior Escorts has consistently occupied Page 1 for crucial terms like "London escorts," underscoring our capability to secure prime positions.
Over 100+ Page 1 Rankings: With an impressive roster of over 100 Page 1 rankings, Dior Escorts stands tall in the highly competitive digital landscape.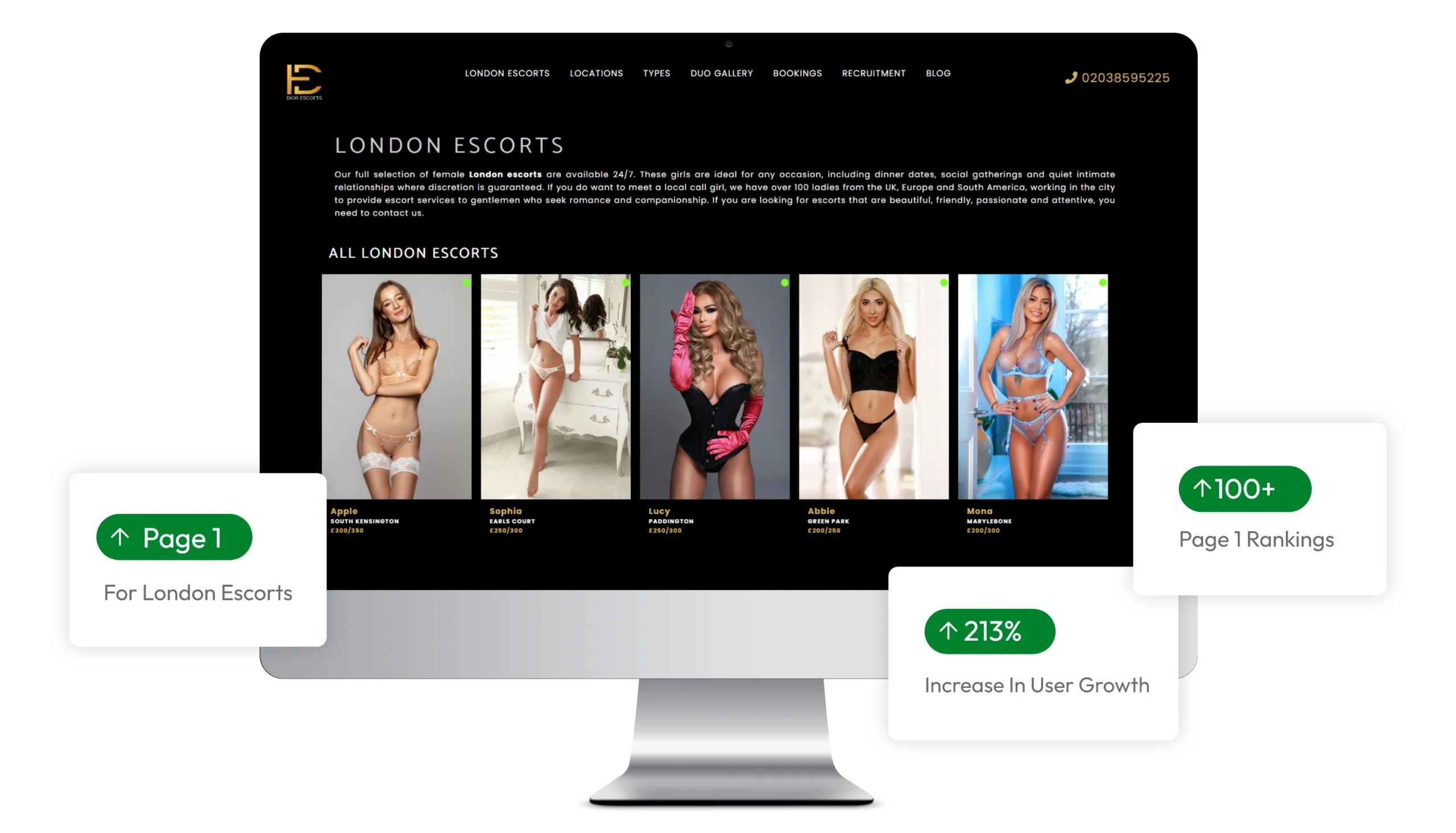 The Objective
Dior's objective was clear: to achieve and maintain a prominent digital presence, ensuring consistent growth and visibility. Ultimately, the goal was to secure a top-ranking position on Page 1 of Google, and to achieve this monumental goal, several strategic steps were implemented:
Step One: Design, develop and manage a cutting-edge escort agency website.
Step Two: Develop meticulous Adult SEO strategies.
Step Three: Address industry challenges as they arise through an adept account management team.
The Strategy
At Adult Creative, we crafted a multifaceted strategy to achieve these remarkable results for Dior Escorts:
Escort Agency Web Design and Development: We aimed to continuously evolve Dior Escorts' web design, ensuring it aligned with the latest trends while staying true to the brand's identity.
Adult SEO: To get Dior ranking on Google for Page 1, we developed a comprehensive SEO strategy. This encompassed on-page optimisation, data analysis, strategic link building, content optimisation, and staying ahead of Google's algorithmic updates.
The Campaign
Audit and Planning:
The first step in our campaign was conducting a comprehensive audit of the client's website, which included the analysis of their current SEO performance, identifying technical issues, mapping keywords to pages, and examining their backlink profile.
SEO Battles:
We meticulously crafted and executed Adult SEO strategies that drove high-quality organic traffic. However, Dior Escorts faced relentless negative SEO attacks, DDoS assaults, and the ever-shifting sands of Google updates. Despite these adversities, Adult Creative's dedication and hard work prevailed, maintaining Dior Escorts' Page 1 status.
Web Development Evolution:
The yearly evolutions of Dior Escorts' web designs were a testament to our commitment to helping the client stay current and up-to-date. These developments not only aligned with the latest trends but also preserved the agency's unique brand identity.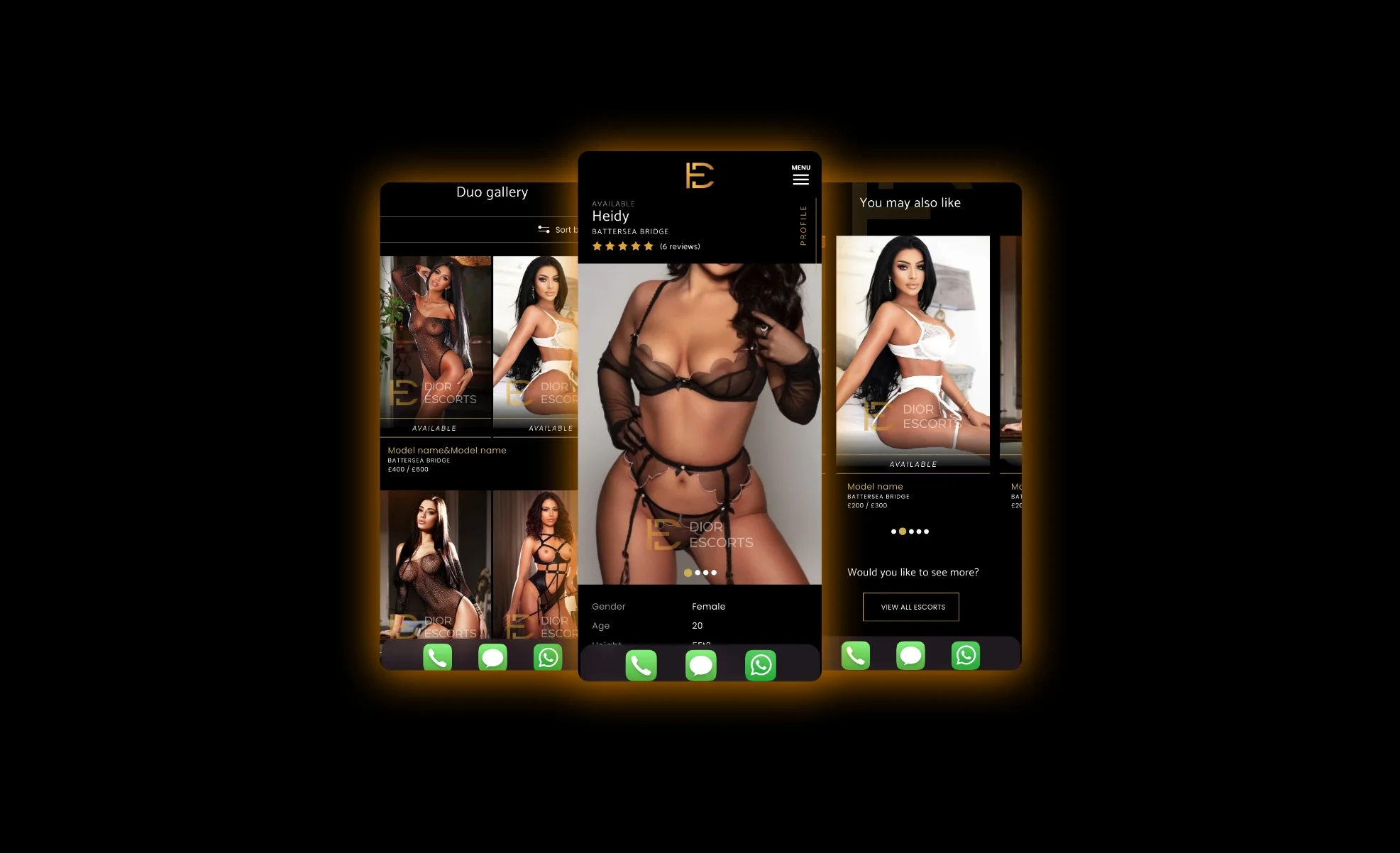 Results:
The culmination of this enduring partnership resulted in a significant surge in website traffic, keyword supremacy, and consistent Page 1 dominance for over 100 crucial terms.
Testimonials
"We have worked with Adult Creative for nearly a decade.

We wouldn't go anywhere else – the service is professional & they have solved any problems we have had immediately.

We highly recommend this company which is very honest with their time scales on when a job will be complete, unlike other companies we had tried previously who never managed the desired outcome.

The staff all seem very friendly & helpful, always contacting us to ensure we are satisfied with everything they are doing."
A Journey of Success
For Dior Escorts, this journey has been one of resilience, adaptability, and an unwavering pursuit of excellence… but their story is far from over. With many more years of success and partnership ahead of us, their legacy is poised to grow even stronger.
Ready to embark on your own journey to digital prominence? Contact Adult Creative today, and join us in shaping the next chapter of your success story!